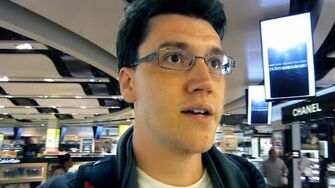 Previous Vlog (Day 2053) | Next Vlog (Day 2055)
Locations
Edit
Athens, Greece
London, United Kingdom

Heathrow International Airport

Charleston, SC

Charleston International Airport

Stephen and Mal's apartment
Stephen and Mal make their way back home to Myrtle Beach from Athens, Greece! They do so over the course of 24 hours! For better or worse, they make an effort to stay up for the entire trip, so they watch several films on the flight back, including The Grand Budapest Hotel, Dog Day Afternoon, Edward Scissorhands, and the first 20 minutes of Chappie.
Back at home, Sagan needs lots of love and attention but it's time for bed. It's a big week ahead, with about six days until the next trip.
Ad blocker interference detected!
Wikia is a free-to-use site that makes money from advertising. We have a modified experience for viewers using ad blockers

Wikia is not accessible if you've made further modifications. Remove the custom ad blocker rule(s) and the page will load as expected.