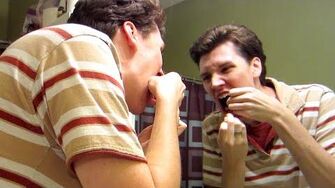 Previous Vlog (Day 1729) | Next Vlog (Day 1731)
Locations
Edit
Stephen and Mal's apartment
Stephen goes to the dentist today, and the dentist calls him out on his lack of flossing. To help himself get into the habit of flossing, Stephen issues the official StephenVlog Flossing Challenge™! He invites the viewers to join him on his quest to floss every day for the next six months.
A similar challenge was in April 2011, where Stephen challenged his viewers to avoid drinking soda for several months.
Ad blocker interference detected!
Wikia is a free-to-use site that makes money from advertising. We have a modified experience for viewers using ad blockers

Wikia is not accessible if you've made further modifications. Remove the custom ad blocker rule(s) and the page will load as expected.