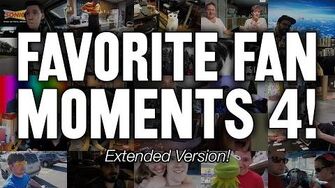 Previous Vlog (Day 2000) | Next Vlog (Day 2001)
Favorite Fan Moments 3! (Day 1500 Bonus!) | Favorite Fan Moments 5!
Favorite Fan Moments 4! (Abridged Version!)
Stephen, Mallory, et al. take us through all of the favorite vlog moments of Days 1500 to 2000, as chosen by the viewers!
This extended version contains all of the clips suggested by viewers on Day 1902. The abridged version contains only the best moments in the extended version, and is the current channel trailer for StephenVlog.
Ad blocker interference detected!
Wikia is a free-to-use site that makes money from advertising. We have a modified experience for viewers using ad blockers

Wikia is not accessible if you've made further modifications. Remove the custom ad blocker rule(s) and the page will load as expected.