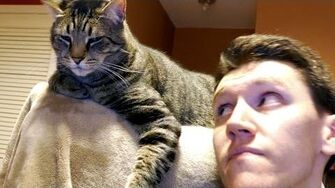 Previous Vlog (Day 2531) | Next Vlog (Day 2533)
Locations
Edit
Stephen and Mal's apartment
Stephen gives his thoughts on yesterday's Extra Life event.
Extra Life is always a major highlight of his year. He feels great about being able to help out his community. Many of his family friends have needed healthcare from the local children's hospital, so he knows that his work is contributing in tangible ways. He decides that the goal for next year's event will be $16,000 meaning that the total amount raised for McLeod's Children's Hospital since the start of Extra Life will be $50,000. He once again thanks Hayley for running a very tight ship while moderating the chat.
Stephen and Mal still have a lot of work to do before their trip to Wisconsin. Time to keep truckin'.
Ad blocker interference detected!
Wikia is a free-to-use site that makes money from advertising. We have a modified experience for viewers using ad blockers

Wikia is not accessible if you've made further modifications. Remove the custom ad blocker rule(s) and the page will load as expected.