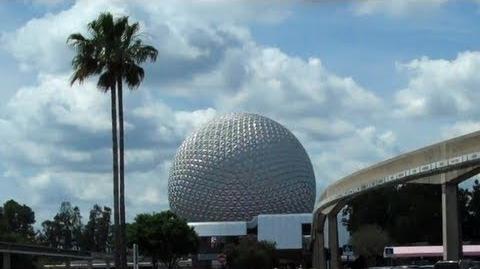 Previous Vlog (Day 862) | Next Vlog (Day 864)
Locations
Edit
Stephen's hotel room
Epcot Center
Les Chefs de France
Stephen and Mallory have eggs for breakfast and then walk to Epcot Center instead of taking the tram like most people. Stephen sees a statue of Mickey as a magician and asks if he has a name like "Phantasmal Image or something" and then Mallory reminds Stephen that he is from Fantasia. On Spaceship Earth where the convenience of the future is shown through animated figures with pictures of your faces on them Mallory's hair is cut off of the picture.
Stephen and Mallory stop to look at the Butterfly exhibit and then they eat at Les Chefs de France. Stephen sees a table of Pokémon plushies but doesn't know of any their names because they are beyond Generation II which is the last group of pokémon that he is familiar with. Then they watch someone make animal figurines out of candy and ride on Mission Space. They eat at Season's and then go to Living with the Land, which is a greenhouse. They ride Test Track and then watch the fireworks show at the end of the day. Stephen feeds a duck edamame and says that his car is the furthest one in the parking lot.
Ad blocker interference detected!
Wikia is a free-to-use site that makes money from advertising. We have a modified experience for viewers using ad blockers

Wikia is not accessible if you've made further modifications. Remove the custom ad blocker rule(s) and the page will load as expected.