Previous Vlog (Day 1377) | Next Vlog (Day 1379)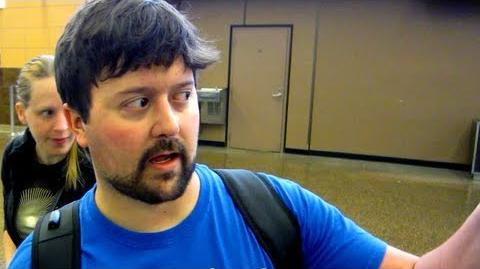 Locations
Edit
Seattle, WA

Specialty's Bakery and Cafe
Sea-Tac Airport

Myrtle Beach Airport
Stephen and Mal's apartment
Stephen and co. grab breakfast at Specialty's and leave for the airport.  Stephen and Mal say goodbye to Dan, Taylor, Alex, and Hayley.  Back at Myrtle Beach, they are picked up by Stephen's parents, and they go back to the apartment to say hello to the kitties.  Stephen's parents left a bag with what appeared to by Manny on the counter, but it turns out that it was just his shed layer of skin.  Stephen wraps up the vlog by sharing his thoughts about PAX (especially the meetup).
Hayley: "Let's meet back at the next PAX, shall we?"
Ad blocker interference detected!
Wikia is a free-to-use site that makes money from advertising. We have a modified experience for viewers using ad blockers

Wikia is not accessible if you've made further modifications. Remove the custom ad blocker rule(s) and the page will load as expected.