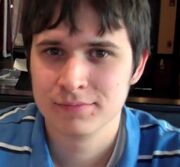 Emile
,
"Chuggaaconroy"
is a fellow LP'er (and a very popular one at that) who became friends with
Stephen
on
Starmen.net
before he even started on YouTube. They had not met in person until
Day 703
. He is mostly seen alongside
Masae
.
He is also one of the three core let's players of the collaborative channel, The Runaway Guys, along with Jon and Tim. Stephen and Mal have been part of three of their Tournaments: Super Smash Bros. (N64), Mario Kart Double Dash!! (GCN) and Bomberman Live: Battlefest (Xbox Live Arcade).
He has his own Wiki here.