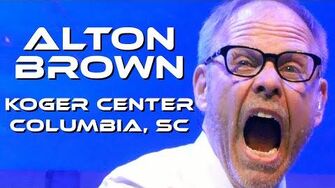 Previous Vlog (Day 2326) | Next Vlog (Day 2328)
Locations
Edit
Stephen and Mal's apartment
Columbia, SC

Five Guys
Koger Center for the Arts
Starbucks
Stephen and Mal head down to Columbia to see Alton Brown's live show, Eat Your Science! They meet up with some viewers before the show for a meal at Five Guys.
At the show, it turns out Stephen and Mal have seats very close to the front. The show is also an incredible experience, and Stephen highly recommends it to everyone.
Ad blocker interference detected!
Wikia is a free-to-use site that makes money from advertising. We have a modified experience for viewers using ad blockers

Wikia is not accessible if you've made further modifications. Remove the custom ad blocker rule(s) and the page will load as expected.