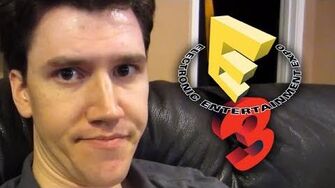 Previous Vlog (Day 1659) | Next Vlog (Day 1661)
Locations
Edit
Stephen and Mal's apartment
This vlog begins the previous day so Stephen can get back on social media quickly. He spends this vlog talking about the E3 2014 conferences.
First up, Microsoft. This conference seems to be all about games. Stephen is particularly interested about Sunset Overdrive, Ori and the Blind Forest, and Inside. He is also looking forward to Halo: The Master Chief Collection, since he wants to do an LP of Halo 2. He isn't blown away by anything in particular.
The next day, he and Mal have some kebabs and resume watching the conference.
Second is the Sony conference. LittleBigPlanet 3 is particularly exciting, but Stephen is a bit shocked by how poorly the demonstrators play the game. Despite some technical hiccups, he says that he prefers this conference to the Xbox conference.
During the Sony conference, Stephen and Mal move on to the meat skewers and dessert skewers.
Lastly is the Nintendo Digital Conference, which Stephen watches the next day. He really enjoys the lighter tone of the conference, and likes this one the best out of all three. He's looking forward to Smash Bros in particular, but many other games as well.
Ad blocker interference detected!
Wikia is a free-to-use site that makes money from advertising. We have a modified experience for viewers using ad blockers

Wikia is not accessible if you've made further modifications. Remove the custom ad blocker rule(s) and the page will load as expected.