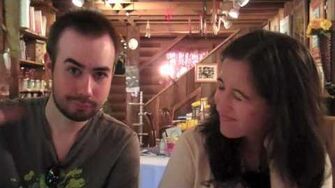 Previous Vlog (Day 246)
|
Next Vlog (Day 248)
Locations
Edit
Gatlinburg house
Chappy's
Mellow Mushroom
The vlog begins with Stephen playing EDH with Chaz and another person. After the game of Magic, a group of them go down to a cafe called Chappy's to eat. Several hours later, they go to Mellow Mushroom to eat another meal. At Mellow Mushroom, Ben asks about the vlog and then suggests that Stephen does what he did, which is takes pictures while climbing a mountain. Stephen then shows some of those pictures. The group begins to discuss the name of the restaurant and how it sounds like drugs. Then Stephen lists off what he thinks drugs are akin to.
Ad blocker interference detected!
Wikia is a free-to-use site that makes money from advertising. We have a modified experience for viewers using ad blockers

Wikia is not accessible if you've made further modifications. Remove the custom ad blocker rule(s) and the page will load as expected.