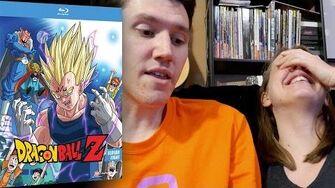 Previous Vlog (Day 2496) | Next Vlog (Day 2498)
Locations
Edit
Stephen and Mal's apartment
It's the penultimate review of Dragon Ball Z from Stephen and Mal.
This season is probably the single most bizarre season of DBZ thus far. Mal equates the season to a ball of yarn being untangled by some kittens. Stephen feels that the season was incredibly varied fun to watch: Majin Buu is an excellent villain and is almost exactly what the season needed. Mal feels similarly, but is also a little burned out on the series.
Other Dragon Ball Z ReviewsEdit
Ad blocker interference detected!
Wikia is a free-to-use site that makes money from advertising. We have a modified experience for viewers using ad blockers

Wikia is not accessible if you've made further modifications. Remove the custom ad blocker rule(s) and the page will load as expected.