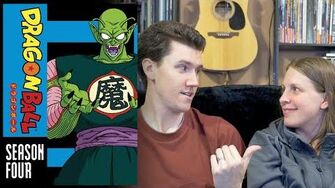 Previous Vlog (Day 2190) | Next Vlog (Day 2192)
Locations
Edit
Stephen and Mal's apartment
It's time for a review of Dragon Ball season 4.
Spoiler AlertEdit
With the sudden death of Krillin and the introduction of Piccolo, Stephen and Mal felt that this season was very fast-paced. They did enjoy seeing some characters like Yajirobe and Korin, but also felt that there was less variation in this season compared to other seasons. Since he's watched Dragon Ball Z before, Stephen is getting quite a bit out of the series. He and Mal are still really enjoying the series and are looking forward to watching the final season.
Other Dragon Ball ReviewsEdit
Ad blocker interference detected!
Wikia is a free-to-use site that makes money from advertising. We have a modified experience for viewers using ad blockers

Wikia is not accessible if you've made further modifications. Remove the custom ad blocker rule(s) and the page will load as expected.