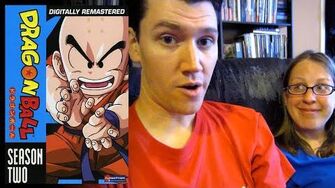 Previous Vlog (Day 2139) | Next Vlog (Day 2141)
Locations
Edit
Stephen and Mal's apartment
The rain has come back, and the roads are once again flooded. It seems like the perfect day to stay inside and give a quick review of Dragon Ball season 2! (Spoilers for season 2 below.)
Spoiler AlertEdit
Stephen and Mal felt that certain parts of the season, namely Muscle Tower and Penguin Village, dragged on for a while, but they enjoyed the stories involving General Blue. Stephen also notes that Korin is basically just Kepler. So far, the two of them are really enjoying the show, and are looking forward to working through the next season.
Other Dragon Ball ReviewsEdit
Ad blocker interference detected!
Wikia is a free-to-use site that makes money from advertising. We have a modified experience for viewers using ad blockers

Wikia is not accessible if you've made further modifications. Remove the custom ad blocker rule(s) and the page will load as expected.