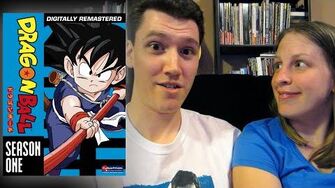 Previous Vlog (Day 2118) | Next Vlog (Day 2120)
Locations
Edit
Five Guys
Stephen and Mal's apartment
Stephen and Mal give a quick review of season 1 of Dragon Ball. Stephen has previously seen all of Dragon Ball Z and has read the manga up until around the end of season 1, but Mal has had no previous exposure to the series. They've enjoyed it so far, and Stephen invites the viewers to discuss their thoughts on the first season of the show. He and Mal will do a similar video once they finish watching the next season.
Other Dragon Ball ReviewsEdit
Ad blocker interference detected!
Wikia is a free-to-use site that makes money from advertising. We have a modified experience for viewers using ad blockers

Wikia is not accessible if you've made further modifications. Remove the custom ad blocker rule(s) and the page will load as expected.