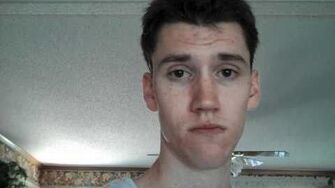 Previous Vlog (Day 286) | Next Vlog (Day 289)
Locations
Edit
Stephen begins the vlog recieving a facial, noting other vlog days that also feature facials (Day 16 and Day 35 ).
The vlog cuts back home where Stephen goes through the mail he has recieved. He recieves a letter from Mallory, a letter from a friend in Belgium, and a package. He begins with Mallory's letter which is brief and contains some Magic: the Gathering cards. He then opens Kite's card which contains another brief letter and more cards. He then opens the package which contains a Logitech mouse for his computer. Afterwards he shows off his collection of Magic: the Gathering cards, showing which cards are left to get in order to complete his frames. He finally ends off the vlog mentioning that he has finished playing Red Dead Redemption.
This is the third vlog day that features Stephen getting a facial massage.
Stephen: "Kitty! Kitty!...Paper! 'Stephen, Love you! Colon, three. (:3)'"
Stephen: "There. It's almost like the real thing...except no where close."
Stephen: "Trade with Kite, and you'll fly high. Get it, 'cause he's, 'cause it's kite and flat and - never mind."
Ad blocker interference detected!
Wikia is a free-to-use site that makes money from advertising. We have a modified experience for viewers using ad blockers

Wikia is not accessible if you've made further modifications. Remove the custom ad blocker rule(s) and the page will load as expected.