Donkey Kong Country 3 is Stephen Georg's 34th Let's Play, and his 19th cooperative Let's Play with Mallory. It debuted on November 25th, 2013 and ended on February 25th, 2014.
Before this LP, Stephen and Mal previously did Let's Plays of Donkey Kong Country and Donkey Kong Country 2. Following the completion of this LP, they have also covered Donkey Kong Country Returns and Donkey Kong Country Tropical Freeze.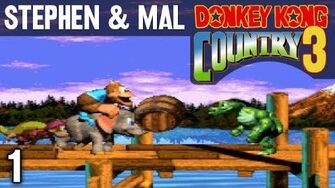 Ad blocker interference detected!
Wikia is a free-to-use site that makes money from advertising. We have a modified experience for viewers using ad blockers

Wikia is not accessible if you've made further modifications. Remove the custom ad blocker rule(s) and the page will load as expected.