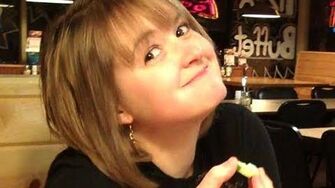 Previous Vlog (Day 387) | Next Vlog (Day 389)
Locations
Edit
Mallory's Dorm - UW Stout
Mallory's Car
Jeff's Pizza
The Hallway of the Classroom - UW Stout
Hayley's Dorm - UW Stout
It's Finals - Day 2 for Mallory, and after that she is done with school forever! So Stephen & Mal continue their celebration by having dinner at Jeff's Pizza! Oh, and also Hayley makes her Vlog appearance debut as she moves in the same Hall as Mal's Dorm!
This marks the first physical appearance of Hayley on the Vlog. However, at the end of the previous vlog, Stephen showed a photo of her baking.
Though Stephen points out that Mallory's done with school, Mallory came to UW Stout to study art education to teach art from Kindergarten to High School. Therefore, she became a student-teacher until her graduation, and is currently now a full-time teacher as of Day 1308.
In the comments of this video, Stephen reveals that Hayley is a member of Starmen.Net, the site where he & Mal first met, and when Mal switched colleges to UW Stout, she found out Hayley was attending the same college.
"Man, I got the Cloverfield effect going on, but, it's not on purpose. It's just because I'm cold!" ~Stephen, pointing out how cold he is at the moment. However, he does make a reference to the 2008 found-footage monster film Cloverfield.
"Done with school forever! *Fades out* Done with school forever..." ~Stephen pointing out that Mallory is done with school forever. However, she doesn't graduate until Day 536.
"Today's episode is brought to you by the letters B and I for Bad Ideas." ~Stephen in response to Hayley attempting to perch.
Ad blocker interference detected!
Wikia is a free-to-use site that makes money from advertising. We have a modified experience for viewers using ad blockers

Wikia is not accessible if you've made further modifications. Remove the custom ad blocker rule(s) and the page will load as expected.