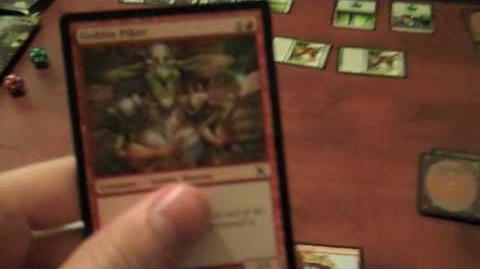 Previous Vlog (Day 105) | Next Vlog (Day 107)
Locations
Edit
Stephen's car
The dorm at SCAD
Stephen gets out of his final documentary class and receives a letter from Mallory containing a greeting card and a Magic Land card. Stephen and Dan eat more of the terrible frozen chicken tenders that they first tried in Day 99 (but they mix things up with a "palette" of condiments), watch a news story about female pilots, pretend to be sexist pigs, talk about how Mallory wants to cook for them when she comes to visit for spring break, and see another news story, this one about how a group of men stole 25,000 pounds of chicken from a truck, and are selling it on the street. Later, they try to give Alex (who is in San Francisco for a conference) a call, Taylor comes home, and Stephen talks about the work he still has left to do for the quarter. Nick comes over a little later to play some Magic. Wrapping it up, Stephen says he's taking Taylor (who's going home for spring break) to the airport tomorrow.
The title: Stephen was saying that it was okay that Mallory used the word "love" so many times in the letter she sent him, that it's better for a relationship to be based on love than cheeseburgers.
Stephen adds card number three to Frame #1 on this day.
Ad blocker interference detected!
Wikia is a free-to-use site that makes money from advertising. We have a modified experience for viewers using ad blockers

Wikia is not accessible if you've made further modifications. Remove the custom ad blocker rule(s) and the page will load as expected.