Previous Vlog (Day 1010) | Next Vlog (Day 1012)
Locations
Edit
Hotel room - Seattle, WA
Washington State Convention Center
Sheraton Seattle Hotel
The Pike Brewing Company
The Blarney Stone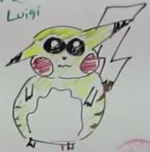 It's the first day of PAX Prime! Stephen, Mal, Alex, and Dan walk around the expo hall for a bit and visit the Fangamer booth. Dan decides to draw a fat Pikachu while there.
They go to The Runaway Guys panel, and Stephen and Josh share an incredibly awkward hug afterwards after meeting each other for the first time. The gang joins up with Edo and they head to The Pike Brewing Company for lunch. They spend some more time walking around the expo hall to check out the booths and demos.
Later on, Tyler is inspired by Josh to partake in an awkward hug with Stephen. Stephen and Mal participate in The Runaway Guys tournament then join up with the rest of the gang at a bar. On the way back to the hotel, Alex decides to give Stephen a hug with his shoulder.  The vlog ends with a fan from The Runaway Guys panel signing off.
Ad blocker interference detected!
Wikia is a free-to-use site that makes money from advertising. We have a modified experience for viewers using ad blockers

Wikia is not accessible if you've made further modifications. Remove the custom ad blocker rule(s) and the page will load as expected.