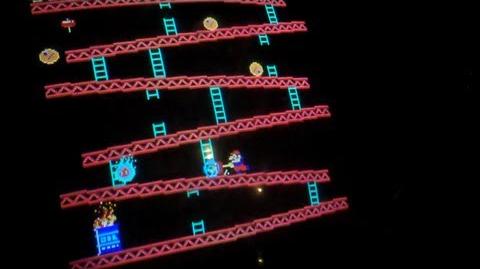 Previous Vlog (Day 860) | Next Vlog (Day 862)
Locations
Edit
Stephen's Car
Dunkin Donuts
Stephen's Hotel Room
Downtown Disney
Earl of Sandwich
Inside Disney Quest
McDonald's
Stephen and Mallory have Dunkin' Donuts for breakfast because it's their honeymoon, doggone it! They get strawberry frosted, chocolate frosted, Boston cream, cinnamon apple, and chocolate glazed donuts. They then watch the movie Bridesmaids together with root beer floats. Stephen says that it drags on too long and there were many unnecessary scenes so only parts of the movie were funny instead of the comedy being spread across the entire movie. Stephen says that he has just finished editing the April Fools' Day Vlog, but the audience would have already seen that day by the time this one was released.
Stephen and Mallory eat at Earl of Sandwich because it is about half the price of all of the other restaurants, and then they look at a LEGO sea serpent. They get into Disney Quest for half price like the planned and play Mario Kart, Donkey Kong, NBA Jam, Skee Ball, The Pirates of The Caribbean pinball game, and a few other arcade games. They buy double cheeseburgers from McDonald's on the way back to their hotel.
Ad blocker interference detected!
Wikia is a free-to-use site that makes money from advertising. We have a modified experience for viewers using ad blockers

Wikia is not accessible if you've made further modifications. Remove the custom ad blocker rule(s) and the page will load as expected.