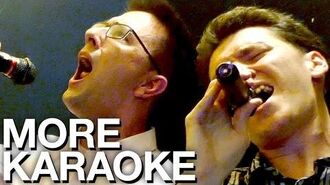 Previous Vlog (Day 2658) | Next Vlog (Day 2660)
Stephen & Alex STRIKE WITH THUNDER
Locations
Edit
Alex's car
PokeMom
Karaoke place
Alex's and Hayley's apartment
Benitora
It's Stephen's and Mal's last day in LA! They go do Japanese-style karaoke, after eating poké bowls at Poke Mom. They sing various songs, including "Birdhouse In Your Soul" by They Might Be Giants, "Bills, Bills, Bills" by Destiny's Child and "Under The Bridge" by Red Hot Chili Peppers.
They then eat gyoza at Benitora for dinner, and buy back some cream puffs from Beard Papa, before heading back to the apartment. Stephen then says that they have to sleep early so they can catch their early flight tomorrow.
Before ending the vlog, they briefly explain talk about the Super Mario 3D World LP that was recently released.
"So we are gonna go do Russian folk songs." - Stephen (about karaoke)
Poké (poh-keh) bowls are a Hawaiian dish, which consists of rice topped with various raw fish and vegetables.
These are all of the karaoke songs featured in the vlog:

"Cars" by Gary Numan
"Parece Mentire" - Banda El Recodo
"Birdhouse In Your Soul" - They Might Be Giants
"The Sidewinder Sleeps Tonite" - R.E.M.
"Ocean Breathes Salty" - Modest Mouse
"Modern Love" - David Bowie
"No Phone" - Cake
"Under The Bridge" - Red Hot Chili Peppers
"Bills, Bills, Bills" - Destiny's Child
"More Than A Woman" - Bee Gees
"Thunderstruck" - AC/DC (there is a bonus video of this song in its entirety here)
"Killing In The Name" - Rage Against The Machine
"Ch-Check It Out" - Beastie Boys
"The Hand That Feeds" - Nine Inch Nails
"White Rabbit" - Jefferson Airplane

Stephen introduced his new and most recent format for the End Card in this vlog. It highlights their shirt store and introduces a discussion topic at the top.

This vlog's topic was: Best breakfast food? We already know Mal's vote goes for french toast...
Ad blocker interference detected!
Wikia is a free-to-use site that makes money from advertising. We have a modified experience for viewers using ad blockers

Wikia is not accessible if you've made further modifications. Remove the custom ad blocker rule(s) and the page will load as expected.