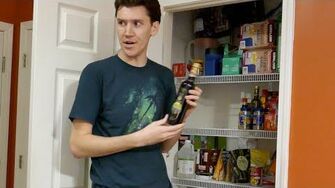 Previous Vlog (Day 2452) | Next Vlog (Day 2454)
Locations
Edit
Stephen and Mal's apartment
It's high time that Stephen and Mal clean out the pantry. They regularly clean out the fridge, but there are items in the pantry that have been there since their time in Columbia. They manage to clear out a decent amount of shelf space, and set aside quite a few items for near-to-immediate consumption.
Ad blocker interference detected!
Wikia is a free-to-use site that makes money from advertising. We have a modified experience for viewers using ad blockers

Wikia is not accessible if you've made further modifications. Remove the custom ad blocker rule(s) and the page will load as expected.