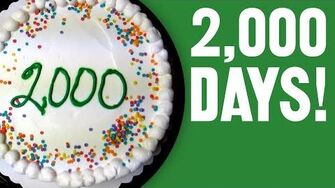 Previous Vlog (Day 1999) | Next Vlog (Day 2001)
Favorite Fan Moments 4! (Extended Version!) | Favorite Fan Moments 4! (Abridged Version!)
Locations
Edit
FISH TACOS AND CAKE!!!
Oh, and it's day 2000 or something. There's a commemorative shirt available for a limited time! Annotations are also being fazed out on new vlogs, which means the end slate for the videos will change.
Ad blocker interference detected!
Wikia is a free-to-use site that makes money from advertising. We have a modified experience for viewers using ad blockers

Wikia is not accessible if you've made further modifications. Remove the custom ad blocker rule(s) and the page will load as expected.