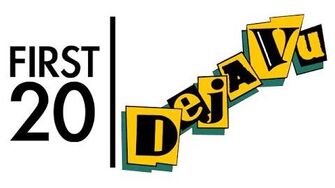 Previous First20 (The Stanley Parable) | Next First20 (Thomas Was Alone)
Déjà Vu is the 28th episode of First20 done by Stephen. It features Mallory, who plays the game as well as co-commentates.
After Mallory introduced The Stanley Parable to Stephen, Stephen introduce Mal to a cool point and click game he used to play as a kid. In addition, Mallory plays the game since she had never played a real point-and-click adventure game before. Stephen narrates for her and instructs her as she struggles with the controls and explores the game.
"You don't need the toilet paper, take the gun." ~ Stephen
"It's a piece of your favorite chewing gum" ~Stephen

"How do I know It's my favorite?" ~Mal

"It's your favorite Mal! The amnesia wasn't that strong you can remember that much." ~ Stephen

"They're flesh colored bracelets everyone in the 40s wore them!" ~ Stephen
Ad blocker interference detected!
Wikia is a free-to-use site that makes money from advertising. We have a modified experience for viewers using ad blockers

Wikia is not accessible if you've made further modifications. Remove the custom ad blocker rule(s) and the page will load as expected.