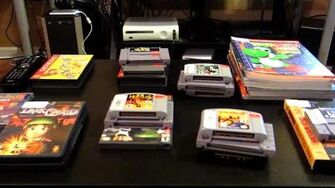 Previous Vlog (Day 1700) | Next Vlog (Day 1702)
Locations
Edit
Stephen & Mal's Apartment
As the description says, it's games, games, and more games! Grab your notepads and pencils as Stephen showcases the haul of video games and guides that he and Mal have acquired throughout their StephenVlog Road Trip! Let the game & guide logging commence!
Stephen showcases all the games and guides he & Mal bought based on not just locations visited but also by game stores. He also references the tour of Fallout Games in Pheonix, Arizona, which took place on Day 1688.
In total, Stephen & Mal paid $125 for 18 games while saving $65, $65 for 10 guides while saving $20, and $190 altogether while saving $95 (difference shown in video)/$85 (actual difference based on calculations).
Stephen and Mal's complete video game collection.
Ad blocker interference detected!
Wikia is a free-to-use site that makes money from advertising. We have a modified experience for viewers using ad blockers

Wikia is not accessible if you've made further modifications. Remove the custom ad blocker rule(s) and the page will load as expected.