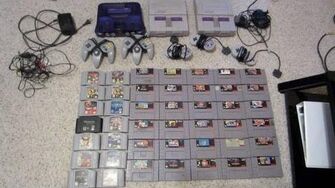 Previous Vlog (Day 1056) | Next Vlog (Day 1058)
Locations
Edit
Stephen's car
Stephen and Mal's apartment
Stephen and Steve grab an excellent Craigslist games deal. He ending up paying $100 for two SNES consoles, one Nintendo 64, some controllers, and a whole bunch of games for both consoles. He spends some time cleaning the consoles and moving over the last of his files from the old computer to the new one.
In other news, the cats are being moved up to two cans of wet food a day to try to curb Kepler's digestion issues.
Ad blocker interference detected!
Wikia is a free-to-use site that makes money from advertising. We have a modified experience for viewers using ad blockers

Wikia is not accessible if you've made further modifications. Remove the custom ad blocker rule(s) and the page will load as expected.