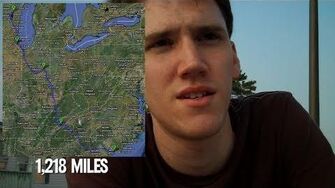 Previous Vlog (Day 566) | Next Vlog (Day 568)
Locations
Edit
Mallory's Car
Fairfield Inn & Buffets - Knoxville, Tennessee
The Beacon - Spartanburg, South Carolina
Stephen's Parents' House - Myrtle Beach, South Carolina
This is it folks, the final day of the 3-day trip from Appleton, Wisconsin to Myrtle Beach, South Carolina. Today, Stephen & Mal make it from Knoxville Tennessee to Myrtle Beach, starting a new life as now a soon-to-be married couple, reuniting with Stephen's parents & Rocko! Oh, and also gelato!
From Appleton, Wisconsin to Myrtle Beach, South Carolina, Stephen & Mal drove a total of 1,218 miles over the period of 3 days.
When Stephen & Mal drove past Exit 451 on Route 40, there was a reference to Day 243 when Stephen & Mal drove through that exit on the way to the Starman.Net Convention held there, which happened last year.
Since this vlog, the Happy Frog Cafe is now closed down as of November 2011, and on their Facebook page, they stated that are now permanently closed in a post made 2 years later.
The Beacon, which is where Stephen & Mal ate lunch at and is world famous for its burgers, was featured in the episode "Diners A-Plenty" on the Food Network show "Diners, Drive-Ins, and Dives," which is hosted by Guy Fieri.
At the end, Stephen whispered that Mal would become a permanent guest on his Minecraft Let's Play, which has since the creation of this page been completed with 100 episodes, starting with Minecraft #27.
Stephen: "Crashed my bicycle in South Carolina....Someone will get that."
Ad blocker interference detected!
Wikia is a free-to-use site that makes money from advertising. We have a modified experience for viewers using ad blockers

Wikia is not accessible if you've made further modifications. Remove the custom ad blocker rule(s) and the page will load as expected.