Previous Vlog (Day 1533) | Next Vlog (Day 1535)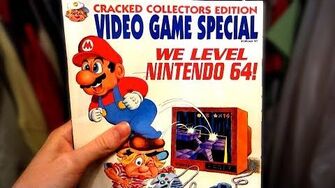 The vlog starts off with some Food Network-esque close-up shots of delicious food cooked by Debra. Stephen shows off some of his childhood possessions, including some video game-related magazines. He highlights an issue of Cracked from January 1997 that he picked up at a Rite Aid pharmacy. The issue contains a lot of video game jokes and comics that Stephen got a kick out of when he was younger. He also finds some Nintendo Power merchandise, including a GoldenEye 007 info packet.
Ad blocker interference detected!
Wikia is a free-to-use site that makes money from advertising. We have a modified experience for viewers using ad blockers

Wikia is not accessible if you've made further modifications. Remove the custom ad blocker rule(s) and the page will load as expected.