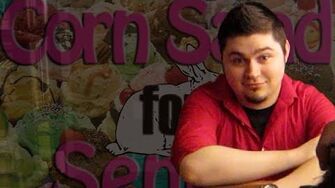 Previous Vlog (Day 1923) | Next Vlog (Day 1925)
Bonus: Josh Jepson & Stephen Georg sing: The Pokémon Theme Song
Locations
Edit
Which Wich?
Stephen and Mal's apartment
Stephen's parents' house
Stephen and Mal receive a package in the mail today from Chaz and Jeff: a deck of re-skinned Love Letter cards featuring "characters" from the vlog, including Dan, Alex, and Hayley.
Jarrett comes over to take some photos for Josh, which he will use to create a Photoshop tutorial video. (Jarrett also made a similar tutorial for some photos he took of Stephen.)
Everybody has some delicious Italian subs for dinner. Also, Stephen and Josh record the Pokémon theme song. Yup.
Josh's version of today can be found here.
Ad blocker interference detected!
Wikia is a free-to-use site that makes money from advertising. We have a modified experience for viewers using ad blockers

Wikia is not accessible if you've made further modifications. Remove the custom ad blocker rule(s) and the page will load as expected.