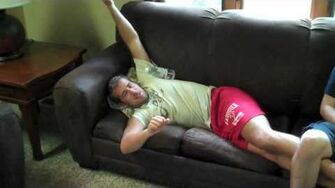 Previous Vlog (Day 248)
|
Next Vlog (Day 250)
Locations
Edit
Gatlinburg house
Stephen's Parents' house
The vlog begins with Stephen filming various people leaving, sitting down, handing out cookies, etc. Before Mallory and Stephen leave, however, they eat breakfast with everyone one last time. On the way home, they see a sign for an exit to the Bat Cave and claim that Batman lives in North Carolina. Once they get home, Stephen discusses the con and how much fun he had meeting everyone and participating in activities with them, then discusses their plans over the next few days.
Ad blocker interference detected!
Wikia is a free-to-use site that makes money from advertising. We have a modified experience for viewers using ad blockers

Wikia is not accessible if you've made further modifications. Remove the custom ad blocker rule(s) and the page will load as expected.