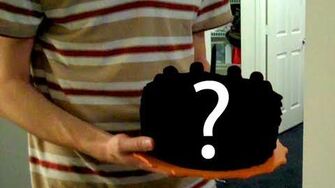 Previous Vlog (Day 553) | Next Vlog (Day 555)
Locations
Edit
Biscuits and packages are on the menu for today's vlog! There's a letter for Stephen (and Dan) courtesy of Mr. Bear, and-ooo.....Cake....:3 Wait, it's not real! O.o Um...Better keep the ants away from it...
The package that featured the cake is courtesy of Justin, who mentions in the comments that the cake is made out of rubber roof patch (cake itself & white frosting), actual nuts, and gumballs (cherries) all covered in fiberglass & paint.
Both the package & the letter from Mr. Dyslexic Heart Bear are the final two letters read at the dorm.
The end clip of the video shows Alex in bed trying to tell Stephen & Dan to leave his room and let him sleep...And shut the lights before leaving...
Dan(about a fake cake): "I am assuming he wants us to cut it into fourths."
Dan: "So I..ate it...whatever it was."
Ad blocker interference detected!
Wikia is a free-to-use site that makes money from advertising. We have a modified experience for viewers using ad blockers

Wikia is not accessible if you've made further modifications. Remove the custom ad blocker rule(s) and the page will load as expected.