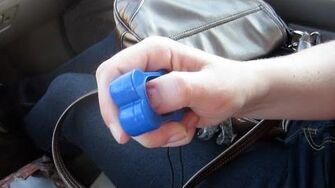 Previous Vlog (Day 1046) | Next Vlog (Day 1048)
Locations
Edit
Stephen and Mal's apartment
Best Buy
Stephen and Mal let the kitties sleep with them in the bedroom last night, and they didn't cause too much trouble. They do some shopping and pick up some Arctic Silver 5 thermal compound for Stephen's computer, a cat/dog training clicker, Seeking Major Tom by William Shatner, and several new SNES games (Super R-Type, Ken Griffey, Jr. Presents Major League Baseball, and Super Pinball: Behind the Mask). Stephen shows that they have finally hung up a poster from Fangamer. He also mentions that he picked up an anti-static wrist strap while at Radio Shack, since lots of people were bugging him about it.
Ad blocker interference detected!
Wikia is a free-to-use site that makes money from advertising. We have a modified experience for viewers using ad blockers

Wikia is not accessible if you've made further modifications. Remove the custom ad blocker rule(s) and the page will load as expected.