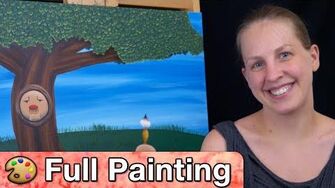 Previous Painting (Pokémon Go - "Go Explore") | Next Painting (Super Mario RPG - "Wishes")
"Lover's Tree" is the 14th video game painting by Mal on MalMakes.
Mal was first introduced to Chulip when she was younger, purchasing the game without any prior knowledge of it. It has now become one of her favorite games. Mal and Stephen have also done a full co-operative playthrough on StephenPlays.
Materials
Edit
Canvas: 18x24 Gessoed in white
Favorite Brushes: Blick Studio, Liquitex Basic, and Simply Simmons
Paint: Golden Heavy Body Acrylic in: Primary Cyan, Primary Magenta, Primary Yellow, Titanium White, Mars Black, Jenkins Green, Burnt Sienna
Specialty Items: Golden High Flow in: Shading Grey, Titanium White, Chalk pastel pencil, Watercolor pencils
Posters and prints of this painting can be purchased here.
Ad blocker interference detected!
Wikia is a free-to-use site that makes money from advertising. We have a modified experience for viewers using ad blockers

Wikia is not accessible if you've made further modifications. Remove the custom ad blocker rule(s) and the page will load as expected.