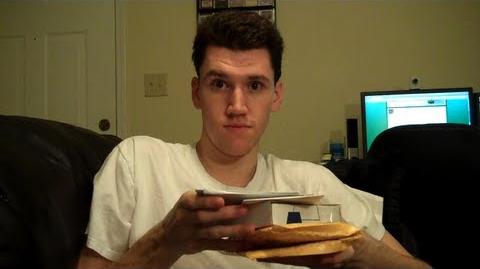 Previous Vlog (Day 767) | Next Vlog (Day 769)
Locations
Edit
Stephen and Mallory have dinner and then they open fan mail. Austin's letter includes two cards for Stephen and Mallory and a Minecraft sticker, Anna's letter includes a drawing and a recipe for fortune cookies, Alison's letter also includes some drawings, Jarrett's letter includes Magic: The Gathering cards, and Beth's letter includes Yugi-Oh! cards.
"Quintuple letter madness" is a reference to Day 125.
Stephen's picture of himself making the face that a picture of himself is making is a reference to Day 747.
Stephen: "Move back, little one. What the crap, Mal?!"
Ad blocker interference detected!
Wikia is a free-to-use site that makes money from advertising. We have a modified experience for viewers using ad blockers

Wikia is not accessible if you've made further modifications. Remove the custom ad blocker rule(s) and the page will load as expected.