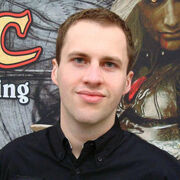 Chaz is a friend of Stephen who knows him through Starmen.net and starred as the bus driver in Fobbies are Borange: THE MOVIE.  Alongisde his husband Jeff, he has co-hosted "Cheffcon" (Chaz-and-Jeff-con) numerous times at their home in Muncie, IN.
Ad blocker interference detected!
Wikia is a free-to-use site that makes money from advertising. We have a modified experience for viewers using ad blockers

Wikia is not accessible if you've made further modifications. Remove the custom ad blocker rule(s) and the page will load as expected.