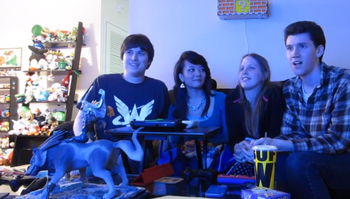 Previous Vlog (Day 1515)
 |
Next Vlog (Day 1517)
Stephen's car
Emile's house
Sparky's
Stephen and Mal go to visit Emile and Masae! On the way there, they drop by Sparky's, a tourist trap gas station in Lexington that has become a bit of an inside joke between themselves: every time they pass by, they never have time to check it out. At Emile's house, they show off some of his new game-related models and gift both him and Masae with some fantastic presents. Masae gets an LP with a Shine from Super Mario Sunshine painted onto it, and Emile gets a frame with all of the past LP logos designed by Stephen and Mal. Stephen gets yet another awkward hug from Emile. They play some video games, including a game of Pictionary that Stephen records separately.
Continuing the trend from when Emile visited Stephen back in July, but this time, Emile is a recipient!
For Masae - A vinyl record with a shine sprite engraved on it.
For Emile - Each of his logos and duration dates, framed, plus extra spaces to put new once
Ad blocker interference detected!
Wikia is a free-to-use site that makes money from advertising. We have a modified experience for viewers using ad blockers

Wikia is not accessible if you've made further modifications. Remove the custom ad blocker rule(s) and the page will load as expected.