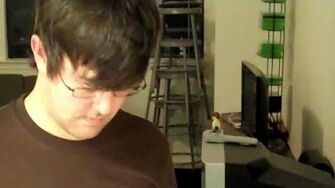 Previous Vlog (Day 87) | Next Vlog (Day 89)
Locations
Edit
Stephen wants to try drops for his ear infection, so everybody heads over to Target so he can get some. When they get back, however, Stephen notices that it says on the box not to use the medicine if one has ear drainage or irritation. He shelves it for now, but does take the generic Sudafed that he also got at Target.
Later, Stephen and Dan decide to start a new file on EarthBound, and get all the way to the third Sanctuary in about two hours. Stephen mentions the congestion medicine doesn't seem to be helping, Alex makes a "thunderstorm" with aluminum foil, and Dan shows Stephen the episode of Aqua Teen Hunger Force where Shake claims to have an ear infection of his own.
Everybody argues over the color of the carpet in the dorm, Mallory shows off the dress she's wearing to an event that night, and Stephen tries putting ice on his ear. It doesn't work, so he goes online to get some more information on ear infections. He learns that some infection-causing bacteria don't respond to the type of antibiotic that he's been taking. He decides to go back to the doctor on Monday.
The color is revealed to be black.
Ad blocker interference detected!
Wikia is a free-to-use site that makes money from advertising. We have a modified experience for viewers using ad blockers

Wikia is not accessible if you've made further modifications. Remove the custom ad blocker rule(s) and the page will load as expected.