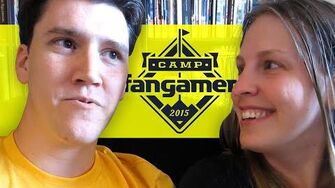 Previous Vlog (Day 2064) | Next Vlog (Day 2066)
Locations
Edit
Stephen and Mal's apartment
Today Stephen and Mal give their reflections on their experience at Camp Fangamer. Prior to the event, neither Stephen nor Mal had any idea what to expect of a convention put on by Fangamer, but quickly found out how much effort went into creating every detail of the event. They were also completely unprepared for the scale of the party that Fangamer was able to put on, how much energy was in the room at any given time, and the escalating levels of craziness throughout the weekend. Alex likened the event to Woodstock, wherein everyone who attended the event will remember it for a very long time.
Stephen asks the viewers to thank two people: Dan Moore (the amazing "host with the most") and Jeff Benson (who did pretty much everything related to Camp Fangamer).
Ad blocker interference detected!
Wikia is a free-to-use site that makes money from advertising. We have a modified experience for viewers using ad blockers

Wikia is not accessible if you've made further modifications. Remove the custom ad blocker rule(s) and the page will load as expected.