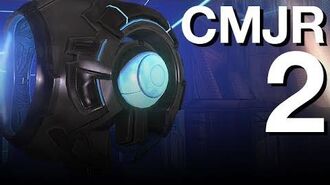 Previous Memorable Moment | Next Memorable Moment
I think now is a good time to revisit the original moment: https://www.youtube.com/watch?v=Drify...
This is an excerpt from Halo 2 #5.
This Memorable Moment is named after and references an excerpt from Halo Anniversary called COMPLETE MORON JACKASS ROBOT, which is what CMJR stands for.
If it is not already clear, CMJR refers to 343 Guilty Spark from the Halo series.
Ad blocker interference detected!
Wikia is a free-to-use site that makes money from advertising. We have a modified experience for viewers using ad blockers

Wikia is not accessible if you've made further modifications. Remove the custom ad blocker rule(s) and the page will load as expected.