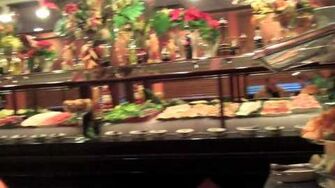 Previous Vlog (Day 381) | Next Vlog (Day 383)
Locations
Edit
A store
Stephen's car
Gauchao Brazilian Steakhouse
Stephen and his father pick up a Christmas tree for the house. In the car, Stephen recommends Restaurant.com for some great restaurant coupons. Stephen and his parents head to Gauchao Steakhouse for a pretty good meal. While there, Steve shows off his "skills" as a "sous-chef".
At the end of the day, Stephen shows a picture of Mal playing in the snow. A lot of snow. Stephen flies in on Tuesday.
Ad blocker interference detected!
Wikia is a free-to-use site that makes money from advertising. We have a modified experience for viewers using ad blockers

Wikia is not accessible if you've made further modifications. Remove the custom ad blocker rule(s) and the page will load as expected.