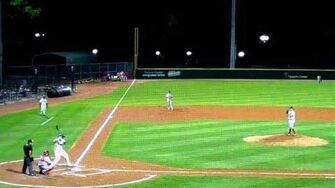 Previous Vlog (Day 509) | Next Vlog (Day 511)
Locations
Edit
Sand Gnat Stadium
Stephen's dorm
Stephen and his roommates head to a baseball game to take advantage of "Dollar Monday", where everything is only $1. Stephen gets admission, 4 hot dogs, and a soda for only $6. He enjoys the event even though it's rare for him to go to sporting events. He asks the audience about what sports they enjoy watching live.
Also, Dan downloads Portal 2 on Steam!
The Sand Gnats are currently relocating to Columbia, where Stephen and Mal lived for a year.
Ad blocker interference detected!
Wikia is a free-to-use site that makes money from advertising. We have a modified experience for viewers using ad blockers

Wikia is not accessible if you've made further modifications. Remove the custom ad blocker rule(s) and the page will load as expected.