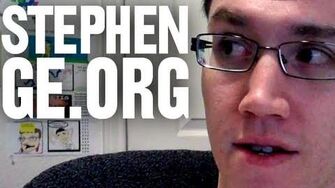 Previous Vlog (Day 546) | Next Vlog (Day 548)
Locations
Edit
Stephen's sleep schedule has been shot to hell due to pulling an all-nighter finishing his site and all video projects with only ten days till he, Alex, Dan, and Taylor graduate from SCAD. However, that doesn't mean he can say that he had obtained an awesome domain name! All is revealed and more on today's vlog!
Stephen's domain name, "stephenge.org", derived from an idea from talking with Chaz, who told him that since his last name doesn't have an "e" at the end, it can be used for a domain name. The domain name still works to this day since then, but it now redirects to his original domain name.
Since this vlog, Stephen has edited the site and has made separate sites for StephenVlog and StephenPlays. As of current, he has incorporated both sites for both channels into the current site, explained on Day 1563.
At the time Stephen recorded this vlog, he makes a warning at the end stating that viewers had tomorrow (the day this vlog went up) and the day after to send letters in that involved Stephen and his college roommates. Stephen's mailing address for SCAD no longer exists as of this day, but his current mailing address is found on the About tab on the channel for StephenVlog.
Ad blocker interference detected!
Wikia is a free-to-use site that makes money from advertising. We have a modified experience for viewers using ad blockers

Wikia is not accessible if you've made further modifications. Remove the custom ad blocker rule(s) and the page will load as expected.