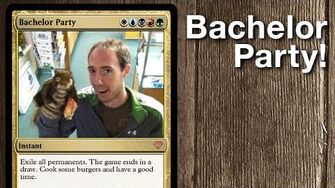 Previous Vlog (Day 2410) | Next Vlog (Day 2412)
Locations
Edit
Chick-Fil-A
Stephen and Mal's apartment
Austin's house
Today is a big, big day.
First off, Lindsey moves in to her new place in Myrtle Beach today! She ends up getting delayed, so she doesn't actually make an appearance on the vlog, sadly.
Mal finishes up her Smash Brothers painting in time to help Lindsey move in, and Stephen heads out to Austin's bachelor party. They both teach some of their friends to play Magic: The Gathering for most of the night.
Stephen: "Just insert the owl into the bat's mouth, and we'll have, like, a reverse Ozzy Osborne concert."
Ad blocker interference detected!
Wikia is a free-to-use site that makes money from advertising. We have a modified experience for viewers using ad blockers

Wikia is not accessible if you've made further modifications. Remove the custom ad blocker rule(s) and the page will load as expected.