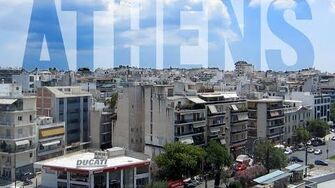 Previous Vlog (Day 2044) | Next Vlog (Day 2046)
Locations
Edit
American Airlines Plane
Athens, Greece

Athens International Airport
A bus
Royal Olympic Hotel
Streets in Athens
Royal Olympic Hotel Restaurant
Stephen and Mal arrive in Athens after both having slept on the plane. They meet with Mark and Rhonda at the hotel pool, before settling into their rooms. After the rain stops, the four take a walk through Athens and Stephen notices graffiti "in a lot of places" as well as cats. They have dinner at their hotel restaurant and later in their room, Stephen thanks their Patreon Producers before closing out the vlog.
Stephen: "Hey Mal, there's another cat. Greece has got graffiti and cats..."
This was the last day where vlogs were caught up, until Day 2344.
Ad blocker interference detected!
Wikia is a free-to-use site that makes money from advertising. We have a modified experience for viewers using ad blockers

Wikia is not accessible if you've made further modifications. Remove the custom ad blocker rule(s) and the page will load as expected.