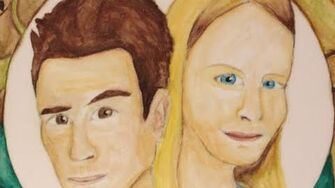 Previous Vlog (Day 661) | Next Vlog (Day 663)
Locations
Edit
Stephen and Mal's apartment
Stephen's car
Stephen and Mal go shopping and pick up some mail on the way. After dinner, they open said mail.
The first letter is from William, one of Stephen's friends from Myrtle Beach. He includes some Yu-Gi-Oh! packs for Daily Pack and a recipe for a pork roast.
As a side note, Stephen says that he "created" a card game called "Kid Cards" when he was around 12 years old. He took all the aspects of the Pokémon trading card game and replaced the characters with his friends from around the neighbourhood. He printed and sold single cards and booster packs to his friends.
Next up is a package from Zachary, who includes an awesome painting of Stephen, Mal, and the enemies encountered in some of the games they have Let's Played.
Ad blocker interference detected!
Wikia is a free-to-use site that makes money from advertising. We have a modified experience for viewers using ad blockers

Wikia is not accessible if you've made further modifications. Remove the custom ad blocker rule(s) and the page will load as expected.