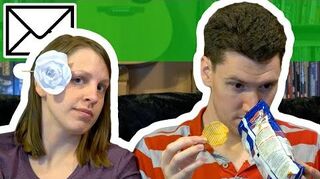 Previous Mail Episode (March 2016) | Next Mail Episode (May 2016)
Mail Shown
Edit
Senders
Content

Justine (Featured Letter)
Peterborough, Ontario
YouTube: N/A

Letter
Wedding Invitation

Jaclyn
Littlefield, TX
Youtube: Firestar1992     

Letter
RWBY DVD Series 1 & 2
Plush of Ruby Rose from RWBY

Leslie
Calgary, Alberta
Youtube: Spiffleh                         

Letter
Six handmade paper flowers
Snacks

Chips: Ruffles All Dressed, Old Dutch Ketchup Chips
Rockets (called Smarties in the US)
Smarties (UK version)
Coffee Crisp

Dominic
Philadelphia, PA
Youtube: N/A 

Letter
EarthBound shirt for Stephen's birthday
Pink scarf from Rome for Mal's birthday
Two-star Dragon Ball from Dragon Ball

Mariela
Philadelphia, PA
Youtube: Buttercupisevil

Letter
Dragon Ball Z socks 

Nathan 
Normal, IL
Youtube: N/A

Letter
Kingdom Hearts HD 2.5 Remix (PS3/PS4)

Mary Kate
Seattle, WA
Youtube: peachprincess3

Letter
Jones Soda Limited Edition: Birthday Cake Flavor
Fan art of Cat Princess Peach

Calvin
San Francisco, CA
Youtube: ck14500                    

Letter + cautionary ticket/note on cardboard
Amiibo of Metal Mario
Mal's camera lens mug (the mug that Stephen melted on Day 2205)

John
Orangeburg, SC
Youtube: ManiacalGoomba

Letter
Video games

Texas Hold 'em Poker (GBA)
Namco Museum (GBA)
Yu Yu Hakusho: Spirit Detective (GBA)
Van Helsing (GBA)
Lord Of The Ring: Return Of The King (GBA)
Lord Of The Ring: Fellowship Of The Ring (GBA)
Lego Harry Potter Years 1-4 (NDS)

The Legend of Zelda: The Twilight Princess HD Soundtrack
Magic the Gathering packs: 1 pack of full art lands &1 booster pack of Magic Origins
Funko POP figure of Rick Grimes from The Walking Dead TV series for Stephen's parents
Box of chocolate truffles for Stephen's parents
Cat toys for Sagan and Kepler

Carrot with catnip inside
Squeaky mouse
Eggplant

TB
Norway
Youtube: TeruteruBozusama

Gift messages
Lakse Monch salmon cat treats
A Silent Voice manga
Video games

Assassin's Creed: The Americas Collection (PS3)
Okami Zekkeiban HD (PS3) (boxed version from Japan)

Erin
Ahoka, MN
Youtube: N/A

Gift messages
Quantum Break (X1)
Quantum Break Player's Guide

John
Antelope Valley, CA
Youtube: N/A 

Tabletop games

Schrodinger's Cats
Dead Of Winter
Code Names

mberry Miracle Fruit Tablets
Both Calvin and John (from Antelope Valley) sent packages in last month's Mail video.
Stephen and Mallory actually got Jon's package in person when they met up before going to Alton Brown's live show Eat your Science in Columbia, SC on Day 2327.
Ad blocker interference detected!
Wikia is a free-to-use site that makes money from advertising. We have a modified experience for viewers using ad blockers

Wikia is not accessible if you've made further modifications. Remove the custom ad blocker rule(s) and the page will load as expected.