Previous Vlog (Day 1401) | Next Vlog (Day 1403)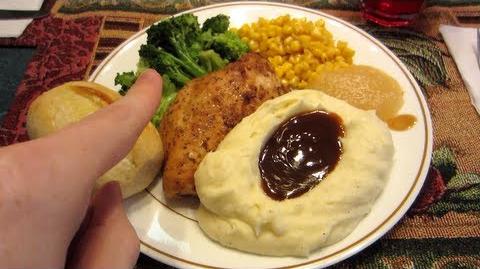 Locations
Edit
Stephen and Mal's apartment
Stephen's parents' house
The roofers are still working on Stephen and Mal's apartment.  Stephen has made a smoothie, but he has spilled some on his shirt.  He mentions that he needs to buy some straws, and uses that to segue into talking about AnyList, an app that he recommends for shopping lists.  He and Mal go to his parents' house for dinner, where they have chicken and mashed potatoes, and apple crisp for dessert.  They watch Cutthroat Kitchen together, then Stephen and Mal head back to their apartment.  Stephen notes that he has changed shirts, since his mother has a stain remover at their house.
Stephen: "We're covering all the food groups too!  Chicken food group, broccoli food group, mashed potato food group, roll food group..."
Ad blocker interference detected!
Wikia is a free-to-use site that makes money from advertising. We have a modified experience for viewers using ad blockers

Wikia is not accessible if you've made further modifications. Remove the custom ad blocker rule(s) and the page will load as expected.