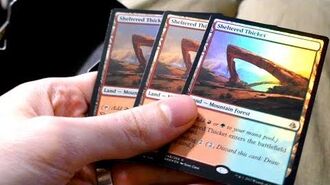 Previous Vlog (Day 2706) | Next Vlog (Day 2708)
Locations
Edit
Myrtle Beach Mall parking lot
Stephen and Mallory's house
Stephen's car
Stephen goes to the Magic: the Gathering Amonkhet prerelease at Player's Choice with Michael and William. Unfortunately, his camera SD card ran out of space so he has no footage of the event.
He did alright, even though he didn't get a lot of good rares. He also enjoyed having his friends there as well, compared to when he went to Magic events in Savannah by himself. But the best moment of his day was the reaction an interesting lady had when she learnt that they were playing Magic: the Gathering.
Before ending the day, they pick up Lindsey from the airport who is back from her scrap-booking weekend.
Stephen has covered Amonkhet and other Magic sets in his Magic Duels LP on StephenPlays.
Ad blocker interference detected!
Wikia is a free-to-use site that makes money from advertising. We have a modified experience for viewers using ad blockers

Wikia is not accessible if you've made further modifications. Remove the custom ad blocker rule(s) and the page will load as expected.