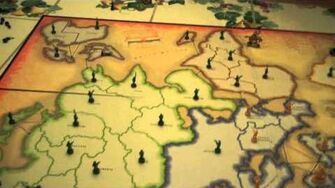 Previous Vlog (Day 585) | Next Vlog (Day 587)
Stephen's car
Austin's house
Stephen's parents' house
Stephen and Mal stop by Austin's house to play a thrilling game of Risk. Somehow, Austin manages to take over the world from Australia, "killing" all of his opponents in the process.
Stephen spends the rest of his evening working on editing Justin's dance recital. He asks the viewers to share their preferences of, and experiences with, board games.
Today is the day that Stephen formally coins his greeting, "Hello everyone, and welcome to ____-day."
Ad blocker interference detected!
Wikia is a free-to-use site that makes money from advertising. We have a modified experience for viewers using ad blockers

Wikia is not accessible if you've made further modifications. Remove the custom ad blocker rule(s) and the page will load as expected.