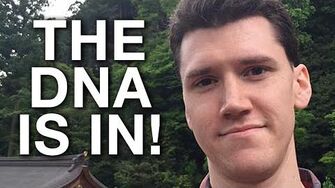 Previous Vlog (Day 2426) | Next Vlog (Day 2428)
Locations
Edit
Stephen and Mal's apartment
Stephen goes through his results from the AncestryDNA test he sent in a month ago. He's always been curious about his genealogy since his family hasn't kept the greatest records of that.
It turns out his heritage isn't quite what he was expecting:
50% Great Britain
25% Scandinavia
8% Finland/Northwest Russia
4% Italy
1% Ireland
11% Other Europe
1% Africa
Given that he has mostly British heritage and almost no German heritage, it might be the case that his surname was historically "George", but the final "e" was dropped somewhere along the line.
Ad blocker interference detected!
Wikia is a free-to-use site that makes money from advertising. We have a modified experience for viewers using ad blockers

Wikia is not accessible if you've made further modifications. Remove the custom ad blocker rule(s) and the page will load as expected.